(1996–)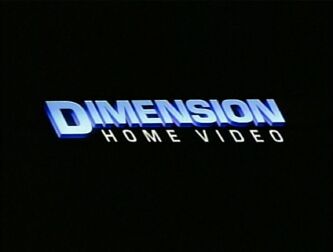 Logo: Same as the Dimension Films logo, except one of these texts appears below it, replacing the word "FILMS":
1996–2005: "HOME VIDEO"
2005–: "HOME ENTERTAINMENT"
Variants:
The "HOME VIDEO" version has "HOME VIDEO" chyroned in and is videotaped.
Conversely, the "HOME ENTERTAINMENT" version was shot on film and has those words digitally inserted in.
There are full-screen and "matted" widescreen variants of both versions.
FX/SFX: Same as the movie logo.
Music/Sounds: Silent.
Availability: Can be seen on home entertainment output from this company.
Scare Factor: Same as the movie logo.
Other
Community content is available under
CC-BY-SA
unless otherwise noted.